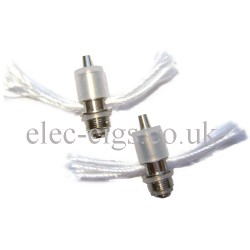 VapourMX Replacement Coil x 2
VapourMX Replacement Coil x 2
Once again, you asked and we answered: The is a pair ( a pack of two) replacement/spare coils, made by HS VapourMX for HS VapourMX GT. Perfect to have in your case if your coil does burn out or stops responding. I suppose it is like having a first aid kit : you hope you will never need it, but if you do, you are happy that you have it.
At only £2.49 for two of them, if you have a VapourMX GT e-cigarette (pre TPD), get the vapourmx replacement coils.
PLEASE NOTE: THIS COIL IS FOR A 'PRE TPD' GT ATOMIZER ONLY (3 ML). WE DO NOT YET HAVE IN STOCK THE COILS FOR THE NEW 2 ML GT ATOMIZER.