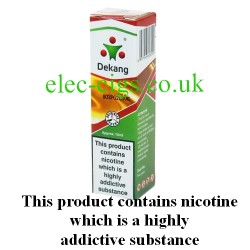 Menthol E-Liquid from DeKang
Menthol E-Liquid from Dekang
Menthol E-Liquid by Dekang is a classic flavour which never goes out of fashion: a wonderful, cooling, menthol rush which stays with you: a great choice.
Menthol E-Liquid by Dekang is an 80-20 (PG/VG) mix and is available in the following nicotine strengths: 6mg (0.6%), 12mg (1.2%) and 18mg (1.8%).
This Menthol E-Liquid is manufactured by Dekang who have been making these liquids for over 10 years and have an enviable reputation within the industry worldwide.
This product contains nicotine which is a highly addictive substance