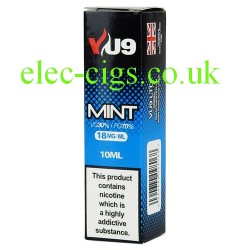 Mint E-Liquid 10 ML from VU9
Price:
£2.99
10 or more

£2.49

20 or more

£1.99
Mint E-Liquid 10 ML from VU9
Mint E-Liquid 10 ML from VU9. Some make mint, double mint and triple mint: I fully expect a quadruple mint soon!! VU9 just do the one and, to be fair, it's all you need: I think there is enough mint flavour in this for anyone's needs. (HUGE DISCOUNT FOR BUYING 10 OR 20)
Mint E-Liquid 10 ML from VU9 is fully TPD licensed; manufactured in the UK and is sold in a 10 ML plastic bottle inside an outer cardboard container complete with full safety and user instructions. It is made in a 30-70 (VG/PG) formula. It is available in three nicotine strengths which are: 6 mg (0.6%), 12 mg (1.2%) or 18 mg (1.8%).
Mint E-liquid 10 ML from VU9 is for sale to persons age 18 years and over; by purchasing this product you confirm that you are of a legal age to do so. The opinion expressed above as to the description of the flavour is a personal, subjective assessment and is intended as a guide only. This product contains nicotine which is a highly addictive substance.