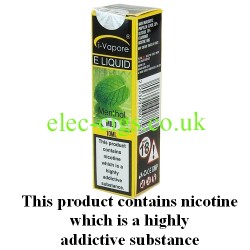 Menthol ELiquid by iVapore
Price:
£3.25
10 or more

£2.35

20 or more

£2.10
Menthol E-Liquid by iVapore
Good menthol e-liquid by iVapore. I have only used the high nicotine one but I am assured that all three actually taste the same, the nicotine level does not alter the taste (we learn something new every day !!)
It comes well packaged in 10 ml bottles within individual boxes and in several nicotine levels. There is a full set of instructions and advice in every box of this e-liquid in addition to the sealed and childproof caps.