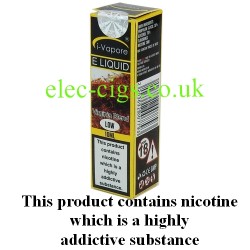 Golden VI ELiquid by iVapore
Price:
£3.25
10 or more

£2.35

20 or more

£2.10
Golden VI ELiquid by iVapore
Golden VI ELiquid by iVapore is unmistakably the taste of that well known rolling tobacco.That, ever so slight, sweet taste but with a faint bitter edge and for me it the closest anyone has come to duplicating a tobacco taste that is recognizable.
It comes well packaged in 10 ml bottles within individual boxes and in several nicotine levels. There is a full set of instructions and advice in every box of this e-liquid in addition to the sealed and childproof caps.
Talking about strange things: it amazes me how many people use a cheap starter e-cigarette and then say that they want to go back to smoking normal cigarettes. Get the best you can buy to give yourself a real chance of quitting smoking cigarettes for good. The HS VapourMX is the perfect choice for using your Golden VI E-Liquid and for what you get it is very cheap. You can find it here.