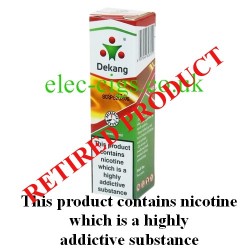 Choco Mint E-Liquid from DeKang
Choco Mint Flavour E-Liquid from DeKang is part of the Mint/Menthol range of flavours and is so good (SOLD OUT)..
The leading manufacturer of E-Liquids bring you a whole range of tobacco and exotic flavours to help you quit smoking cigarettes.
We have managed to secure a huge discount from their normally high price and we will try to maintain the low prices for as long as possible.