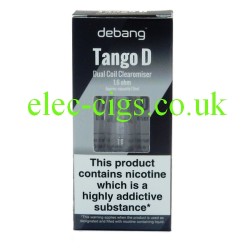 Debang Tango D Atomizer with Spare Coil
Debang Tango D Atomizer with Spare Coil
Another day; another new product from Debang. The Debang Tango D Atomizer (why Tango? I don't get it) despite its name is a class act and another great atomizer to join the Debang line. The Tango D is a dual coil atomizer with no visible wick and it has a spare coil included. It looks great and it works as well as it looks. You know that it is a quality piece of kit because Debang don't do things by half. Try one and you will see what I mean.
This pack contains ONE Atomiser complete with coil and ONE spare coil.
This product contains nicotine which is a highly addictive substance.