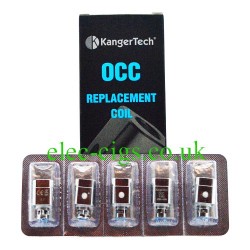 Kanger OCC Temperature Control Coil for Subtank
Kanger OCC Temperature Control Coil for Subtank
This is the Japanese Organic Cotton (OCC) coil for the Kanger Subtanks. The price is for an individual coil and a substantial discount is available if you buy a pack of 5. The OCC uses genuine Japanese organic cotton, giving you a better flavour and a better vape.
Kanger OCC Temperature Control Coil for Subtank has an Ni 200 heating element, 0.15 Ohm, 20-45W, fits Kangertech Subtank Series, Japanese Organic Cotton.
CAUTION: Customers need to choose suitable battery which matches OCC Sub Ohm coil.
WARNING! RISK OF BATTERY EXPLOSION! Ni 200 IS DESIGNED FOR USE ONLY WITH DEVICE EQUIPPED WITH CIRCUIT BOARDS CAPABLE OF CONTROLLING COIL TEMPERATURE, SUCH AS DNA 40 DO NOT USE THIS PRODUCT WITH ANY OTHER TYPE OF DEVICE WHATSOEVER.