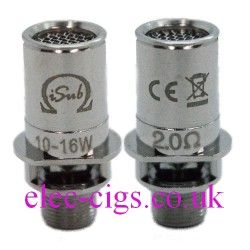 iSub Tank Coil by Innokin: 2.0 Ohm 10W - 16W
iSub Tank Coil by Innokin: 2.0 Ohm 10W - 16W
The iSub Tank Coil by Innokin: 2.0 Ohm 10W - 16W is designed to be used with the Innokin iSub and iSub G Tanks. The iSub coils are crafted from 100% organic Japanese Cotton for the purest flavour production possible and are rated at 2.0 ohms. Excellent value too: buy a box of 5 @ only £1.99 each
The iSub Tank Coil by Innokin: 2.0 Ohm 10W - 16W from Innokin employ a new and innovative technology Innokin are caling the "No spill coil swap" system. Essentially the coil can be removed without the need to 'open' the tank. What this means is that the Innokin iSub Replacement Coil houses the 510 connector pin itself, making cleaning the iSub and iSub G Tank a breeze as well as increasing both tanks longevity.
Coil rating:
Important information about Sub Ohm Vaping:
This replacement coil is designed for sub-ohm vaping. It requires more vaping experience to use safely, and extra care should be taken when using a sub ohm tank. This coil will only work on a mod capable of firing sub ohm atomisers. Please ensure that your batteries can handle the extra power requirements, and that your mod can handle the amps.
We also advise not to use any e-liquid with more than 6mg of nicotine, as your vapour may taste harsh. Sub ohm vaping produces a bigger throat hit than standard coils, and extra care should be taken.
You must be 18 years of age or older to purchase this product. This product contains nicotine which is a highly addictive substance.