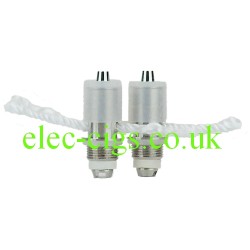 New VapourMX Replacement Coil x 2
New VapourMX Replacement Coil x 2
Once again, you asked and we answered: The is a pair ( a pack of two) replacement/spare coils, made by HS VapourMX for the new HS VapourMX GT.
PLEASE NOTE: THIS COIL IS FOR THE NEW GT ATOMIZER ONLY (2 ML). IT IS EASILY IDENTIFIED AS IT IS THE ONE WITH 'HS VAPOURMX' WRITTEN ON IT.
If you need coils for the 'pre TPD' atomizer (3 ML) then please go here.