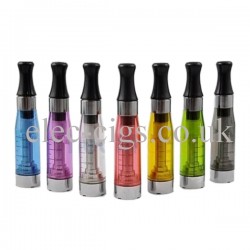 The CE4 Atomiser is a is a standard Atomiser which will fit all of our batteries. It is recommended that you change your Atomiser quite often and this is the least expensive way of doing it.
There is a wick coil and it is just screw in, fill and go.
The tank holds up to 1.6 ml of e-liquid. It works with any e-cigarette battery.
Refilling and Maintenance
To fill with eliquid, unscrew and remove the inhaler tip, hold the tank at a 45 degree angle and pour the e-liquid in. Screw back the inhaler onto the Tank . Do not fill the air hole in middle as that will prevent the smoke from passing through.
It is available in blue, yellow, clear, red, purple, pink, peach and black.
All orders under £50 are charged at £2.99. All orders of £50.00 and over are delivered free of charge.