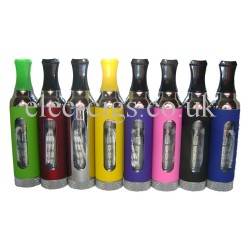 VapourMX GT Type Atomiser
Sorry, none available at this time
You asked for spares for your Vapour MX GT and now you have got them!! It comes complete with Coil (wick) installed.
These are made by the same Company who make your Vapour MX e-cigarette and the are available in these stunning colours: Yellow, Blue, Green, White, Silver. Purple, Red, White and Pink.
They will fit the following Vapour MX e-cigarettes available on this site: Vapour MX E-Cigarette Vapour MX E-Cigarette Gold Vapour MX E-Cigarette Silver Vapour MX GT E-Cigarette
So just ensure you have one of the E-Cigarettes above, then choose the colour you want. You can now have a choice of flavours of your favourite E-liquid without having to empty and clean out your atomiser each time, Just swap it if you fance some Black Jack (Aniseed and Liquorice) or Menthol.