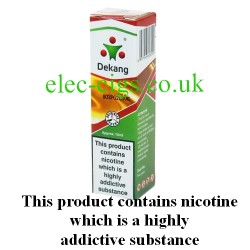 Coconut Flavour E-Liquid from DeKang
Coconut is a fruit Flavour E-Liquid from DeKang and it is a very realistic essence of coconut.
The leading manufacturer of E-Liquids bring you a whole range of tobacco and exotic flavours to help you quit smoking cigarettes.
These e-liquids are made to the highest quality standards in the world.
We have managed to secure a huge discount from their normally high price and we will try to maintain the low prices for as long as possible.
Available in 10ml bottles and in three nicotine strengths: High (24mg), Medium (16 or 18mg) and Low (8mg).
Remember: orders of £50 or more are free of any postage and packing charges